Both Baylor basketball programs ready for March Madness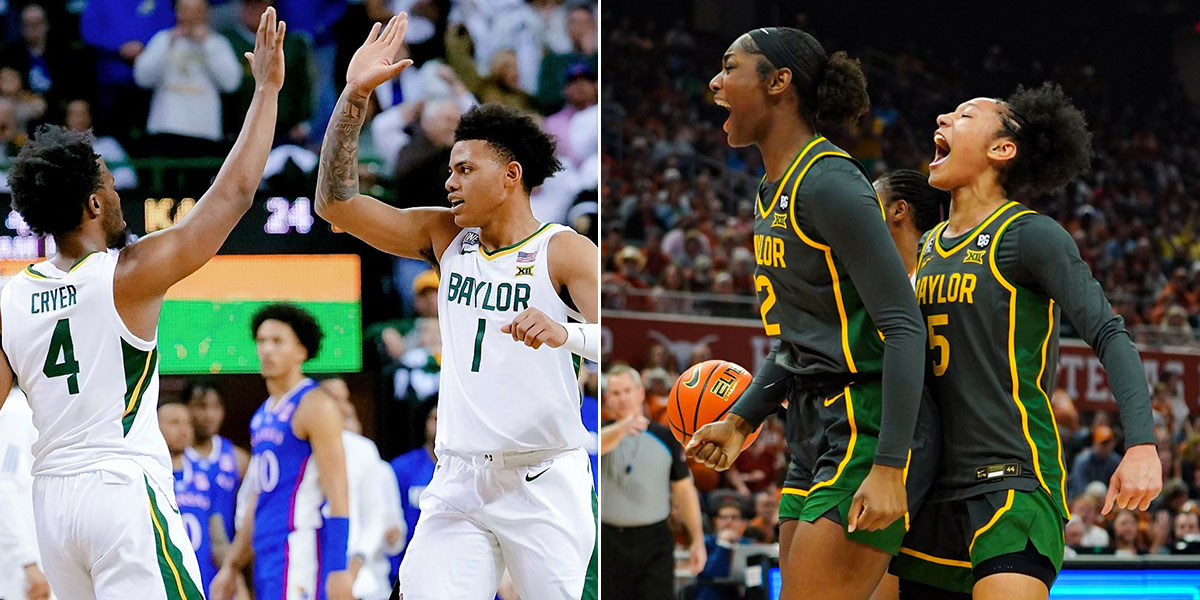 March Madness is finally here, and Selection Sunday once again delivered for Baylor basketball fans. Both Baylor's men's and women's basketball teams fought through challenging schedules to extend their NCAA tournament streaks, with the men earning a No. 3 seed in the South Region and the women earning a No. 7 seed in the Seattle 3 regional.
The Baylor men will launch their tournament run in Denver against UC Santa Barbara (UCSB). The Bears finished the regular season ranked No. 10 nationally (and were named the No. 9 overall national seed), thanks to an overall record of 22-10. Led by All-Big 12 performers Adam Flager, L.J. Cryer and Keyonte George (who was named Big 12 Freshman of the Year), Baylor is battle-tested, having played the third-toughest schedule in the nation. This year marks the third straight year the men have been awarded a top-three seed.
Head coach Scott Drew's Bears will face Big West regular season and tournament champion UCSB, who went 27-7 on the year (Friday, 12:30 p.m. CT, TNT). The Gauchos are led by sophomore guard Ajay Mitchell, the Big West Conference Player of the Year, who's averaging 16.4 points and 5.1 assists per game. The winner of that game will face either Creighton or NCAA State on Sunday for a berth in the Sweet 16.
[LINKS: Get tickets (MBB, WBB) || Baylor basketball gear || Full NCAA brackets (MBB, WBB)]
For the Baylor women, their No. 7 seeding in the Seattle 3 Regional will pit them against Alabama on Saturday. It's the Bears' 19th consecutive NCAA Tournament appearance, and this year's team battled through injuries and a tough schedule to get there. All-Big 12 performers Sarah Andrews, Caitlin Bickle and Darianna Littlepage-Buggs (whose unanimous Big 12 Freshman of the Year selection gave Baylor a clean sweep for this year's top freshman honors), along with All-Freshman Team performer Bella Fontleroy, were key for the Bears. BU enters the tournament with a 19-12 record after playing one of the 20 toughest schedules in the nation — including a Big 12-leading five victories over AP top-25 teams.
Head coach Nicki Collen's Bears will head to Storrs, Conn., to play Alabama in the first round (Saturday, 4:30 p.m., ESPN2). The Crimson Tide went 20-10 in the regular season and tied for fifth in the SEC, led by first-team All-SEC honoree Brittany Davis and her team-leading 17.3 points, 7.1 rebounds and 1.8 steals per game. The winner of the Baylor/Alabama game will face either No. 2 seed UConn or Vermont for a trip to Seattle in the Sweet 16.
Sic 'em, Bears in the NCAA Tournament!