Ventriloquist's many voices make Dunham America's best-selling comic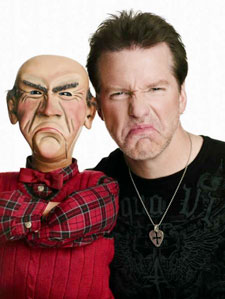 Since graduating from Baylor in 1986, ventriloquist Jeff Dunham has become one of America's most popular comics. Dunham has not only the No. 1 bestselling stand-up comedy DVD on Amazon.com — he has the No. 2 and 3 best-sellers, too (No. 4, you might note, is Bill Cosby). Comedy Central recently signed Dunham and his cast of characters (grumpy old man Walter, the purple-skinned Peanut, redneck Bubba J, and of course, Jose Jalapeno on a Stick) to a massive deal that includes a series order, another stand-up special, a DVD release and merchandising. Oh, and he's featured in the current issue of Time magazine.
Dunham has put his Baylor telecommunications (now film and digital media) degree to use, self producing his three Comedy Central specials. (See clips on his YouTube page.) In fact, my first introduction to Dunham came through his former professor, Dr. Michael Korpi, who showed some clips of Baylor alums in the field during an intro to mass communications class my freshman year.
For a Baylor grad to "inspire a minor ventriloquism renaissance," as Time says, proves that unlike his puppets, Dunham's no dummy.
Sic 'em in the world of comedy, Jeff!