"We're here for His glory": Baylor men's hoops earns spot in NCAA Final Four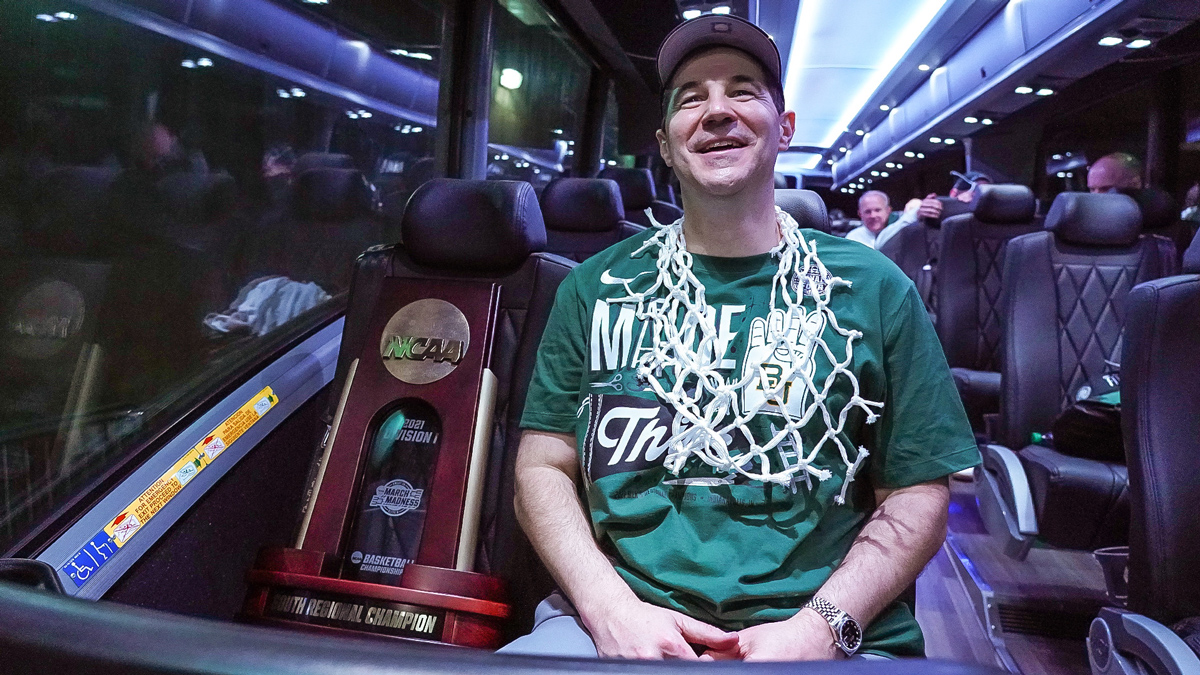 It wasn't a dream; Baylor men's basketball is, indeed, headed to the Final Four.
We've gotten used to sustained excellence from the program under head coach Scott Drew, whose teams have now racked up nine NCAA appearances in the last 13 full seasons, with five Sweet 16s and three Elite Eights (plus an NIT championship and an NIT runner-up finish). But this year has taken it to another level, with the program's first Big 12 championship and now the team's first Final Four since 1950, where the Bears will face former Southwest Conference foe Houston (Saturday, time TBA, CBS).
There's a lot you can say about this team… About how underclassmen like Jared Butler and MaCio Teague put the NBA on hold to come back for another run after last year's truncated season. About the incredible rebuild head coach Scott Drew has put together here at Baylor over the last 18 years. But it all seems to come back to the team's "culture of JOY": Jesus, Others, and then Yourself.
For instance — the first words out of Drew's mouth in his postgame television interview?
"First and foremost, we've got to give all the honor and glory to God, for blessing us with this," the Big 12 Coach of the Year told a national CBS audience.
Similarly, Teague was asked what it felt like after scoring 22 points to lead Baylor to the Final Four. His response?
"It means the world, but all glory goes to God in these situations, win or lose," said the senior guard. "God still brings us here, and we're here for His glory. We're just really happy that everything is working out the way it is right now."
Yes, the talent we're seeing on the court is special. But more importantly, this team of young men has something special going on off the court, too, as all involved seem to understand the hierarchy at work.
Jesus, Others, then Yourself.
Amen.
Sic 'em, Bears!
[BONUS: If you missed — or if you just want to hear it again — check out the Baylor Men's Choir's rendition of "The Star-Spangled Banner" that was played in Indianapolis' Hinkle Fieldhouse before the men's Sweet 16 game on Saturday!]