Men's basketball concludes best season in program history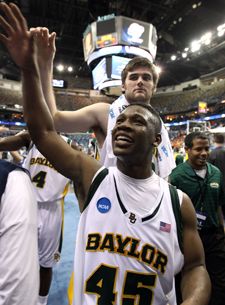 A crowd of more than 47,000 fans (including former President George H. W. Bush) watched a late Duke run bring an end to the Baylor men's basketball team's historic season Sunday afternoon, as the Blue Devils topped the Bears, 78-71, in the NCAA tournament's Elite Eight. (Click here for photos from the past week.)
To put this season in perspective, you don't have to go all the way back to when Scott Drew was hired as coach; you simply need to look back at last fall, when the Bears were picked to finish 10th in the Big 12 Conference by the league's coaches in a preseason poll. Defying such expectations, Baylor truly broke out on the national scene this season in what very well might have been the best year in program history. For example:
A look back at the season would be incomplete without recognizing the team's two seniors, who are each set to graduate in May. Josh Lomers wrapped up his career as the Bears' all-time leader in career wins (81) and was equally proficient in the classroom, becoming the first Bear ever to earn three straight Academic All-Big 12 first team honors. Tweety Carter, the first McDonald's All-American ever to sign with the Bears, capped his career trailing only Lomers in career wins; Carter is the program record holder for career games played and minutes played and ranks among the top 10 in Baylor history in 11 categories, including points (8th) and assists (3rd).
The Bears have arrived as a program to be reckoned with on the national level. And with top-five national recruit Perry Jones joining the Bears this fall, next season could be even better.
Sic 'em, Baylor basketball!
P.S. Don't forget — the Lady Bears are in action tonight, looking to avenge the men's loss by defeating Duke tonight in the women's Elite Eight. Tip-off is set for 6 p.m. CT, with the game airing nationally on ESPN. Sic 'em, Lady Bears!