3D printing a house — in 24 hours? Sounds crazy, but a Baylor alum has made it reality.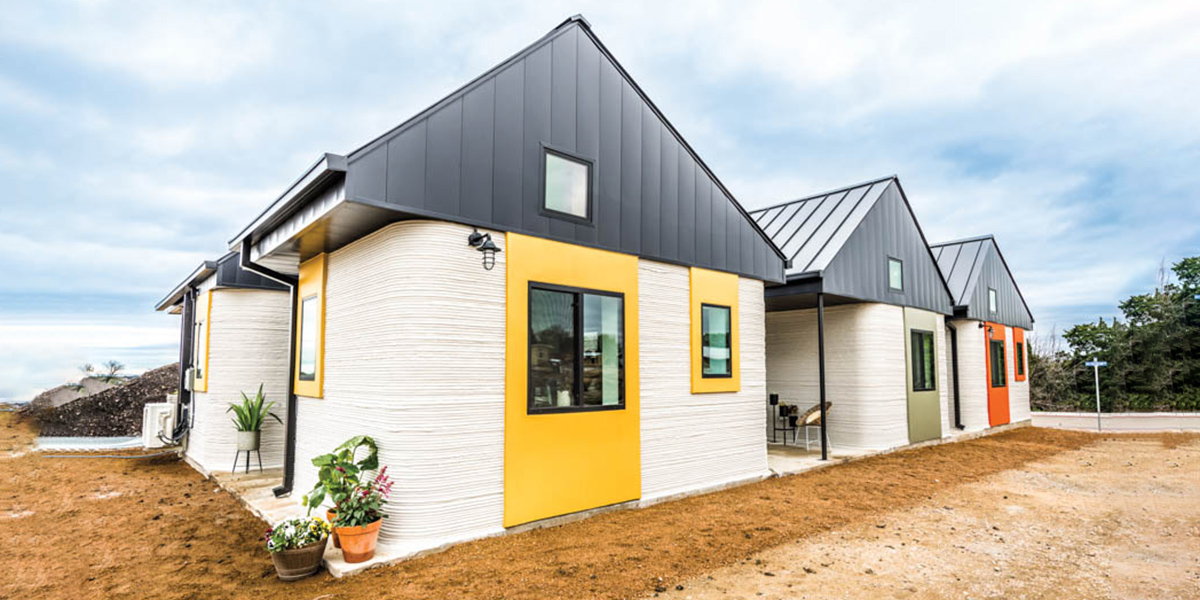 A lot of things can happen in 24 hours. Because of Baylor alumnus Alex Le Roux, BS '15, building houses is now one of those things.
During his senior year, Le Roux designed and built a concrete 3D printer with the intention of breaking into the tiny house movement. He successfully printed America's first livable 3D structure with this printer, leading him to establish Vesta Printers after graduating from Baylor with his engineering degree, building large-scale, affordable 3D printers for the construction industry.
Le Roux's experience within the industry changed his focus from selling printers to using them, and he is now a leader when it comes to 3D printing and the affordable housing industry. In 2017, he cofounded ICON, which uses construction technologies to produce 3D-printed concrete houses for communities forgotten by developers and architects.
"Traditional building methods lead to wasted materials and excess labor costs, alienating poorer families," says Le Roux, who serves as ICON's chief technology officer and guides the development of the company's printers and other technologies. "Our method is available for all sorts of customers, especially those in underserved communities and middle-market housing."
(How does it work? ICON's industrial-scale 3D printer can construct the wall system of an entire house in just 24 hours of print time. Their 12-foot-tall printer "prints" inch-thick layers of a special concrete mix, almost like a giant tube of toothpaste. Once the frame of the house is completed, building partners place the finishing touches like windows, doors and roofs.)
Within a year of its launch, ICON had successfully built the US's first permitted, 3D-printed house. The company has continued on to 3D-print homes in Mexico and Texas, and has future plans to partner with builders in South Africa and El Salvador. Their 600- to 800-square foot homes can be built for as little as $4,000; ultimately, ICON's goal is to reduce the cost of homebuilding by 50%. In August, the company raised $35 million to start development on its next-generation printer. Eventually, this type of printer will be available for larger homebuilders and developers to purchase and utilize.
Though ICON's main mission remains dedicated to lower-income communities, they hope to also use 3D printing technology to construct off-planet space habitats one day.
"We hope to see our technology in the hands of many developers, architects, builders and organizations in the future," says Le Roux. "Together, we can provide sustainable solutions for the homeless on a larger scale."
Sic 'em, Alex!