Happy 30th birthday, Ferrell Center!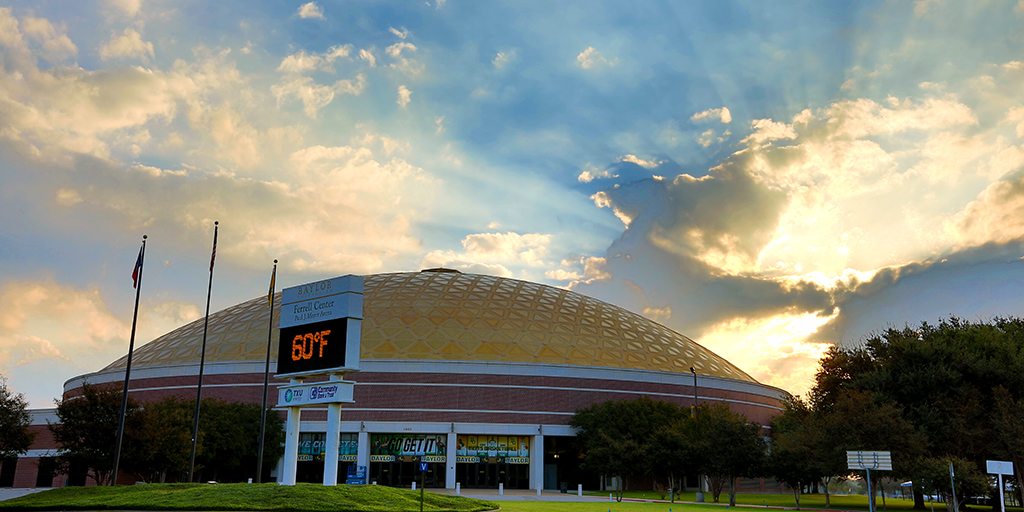 It's hosted three presidents and housed six national championship teams, welcomed some of the biggest country music acts in history, and christened tens of thousands of Baylor Bears who walked across its Commencement stage and exited as alumni.
We're talking, of course, about the Ferrell Center, which opened in style 30 years ago this week. The venerable arena with the landmark golden dome welcomed the public for the first time on Sept. 22, 1988, opening with a visit from the sitting U.S. President, Ronald Reagan. Baylor leadership and students presented Reagan with the Alumnus Honoris Causa, the highest award presented to a non-alumnus, as well as a quintessentially 1980s satin jacket that read, "Our Baylor Bear in the White House."
President Reagan was greeted by a beyond-capacity crowd of 11,000, eager of course to see the president, but also to get their first look at the long-awaited special events center.
After playing basketball games and holding other special events for decades across town at the H.O.T. Coliseum, university trustees approved an on-campus arena in 1983. Five years and a couple of potential locations later (the center was originally slated to be built on the campus side of University Parks Drive, where intramural fields are now located), the Ferrell Center opened to much fanfare and an incredible amount of preparation (as this classic 1988 news clip shows).
A presidential visit set a high bar for the Ferrell Center, but the arena has remained a place that has welcomed influential leaders and popular entertainers. Reagan was the first of three U.S. presidents to visit the arena. President George W. Bush has attended multiple Lady Bear basketball games since 2009, one of which was his first public appearance after leaving the White House. In 2013, President Barack Obama spoke at a memorial service honoring the first responders who list their lives in the West, Texas, fertilizer plant explosion. Other world leaders on the Ferrell Center stage have included Barbara Bush, Margaret Thatcher, Gen. Colin Powell and Archbishop Desmond Tutu.
Over the years, the arena has served as home for national championship women's basketball and acrobatics and tumbling teams, as well as hosting its share of top musical acts — names like George Strait, Garth Brooks, Dolly Parton, Keith Urban, Neil Diamond, Hootie and the Blowfish, Steven Curtis Chapman and more.
Today, the Ferrell Center is the oldest athletic facility on campus, and its future is a subject Baylor leadership is actively analyzing. Director of Athletics Mack Rhoades says the department is considering its options for the future, including either a massive renovation of the current building or the construction of a new facility to replace it.
Whatever the eventual decision, the Ferrell Center's place in Baylor history is secure: a long-standing arena that has brought excitement to campus from basketball to volleyball to acrobatics and tumbling to Commencement and, every few years, brought living history to the Baylor Family through the many world leaders that followed President Reagan to campus.
Sic 'em, Ferrell Center!