McLane Stadium set for 10th season of Baylor Football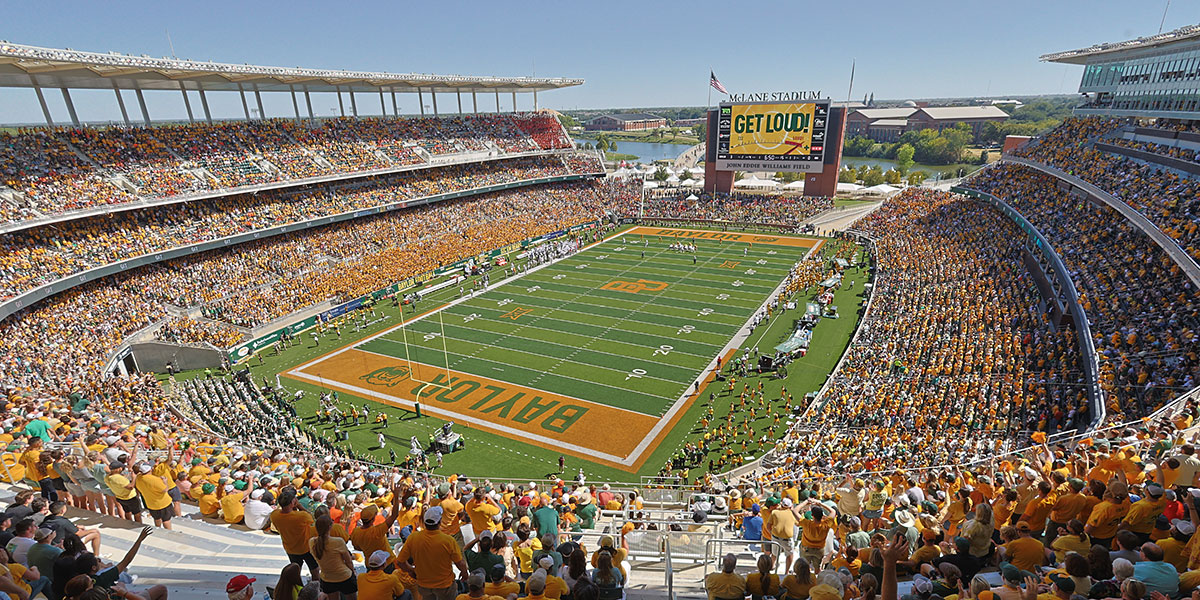 It's hard to believe, but the upcoming Baylor football season will be the 10th at McLane Stadium. How time flies!
The epicenter of Bear Country every home football Saturday, McLane Stadium has aged gracefully, if it's aged at all. It's still tied with an incoming conference rival (Houston's TDECU Stadium) as the newest Power 5 football stadium, and the images surrounding gameday at McLane have only grown better with time: sailgaters on the Brazos, a mass of green and gold fans streaming over the Umphrey Bridge, and the surge of the Baylor Line rushing onto the field.
It's fun to look back to the days when plans for McLane were unveiled in 2011, or when the stadium debuted in 2014, and remember how it felt. And whatever the dreams were for the stadium back then, it's fair to say they've been met and exceeded in many ways. Baylor fans have been treated to fantastic finishes and fans flooding the field, visiting dignitaries and community gatherings, and of course, Big 12 champions — twice, in 2014 and again in 2021 (and oh so close in 2019).
What does the next decade hold for McLane? It begins with the excitement of an energized and expanded Big 12 Conference and the promise of new rivalries. More than likely, there will be moments that become known in shorthand — like "61-58" for the next generation, or some "Sailor Bear Magic" at Homecoming — and the pursuit of more Big 12 titles. As head coach Dave Aranda's program leads McLane toward its second decade, there's also the culture of "person over player," pursuing excellence off the field as they deliver it on gameday, making us all proud.
Happy first decade, McLane Stadium! We'll see you soon — September 2, when the Bears host Texas State to kick off the 2023 season.
Sic 'em, McLane Stadium!