15 years ago, NBC's "The Office" debuted — and the world met this Baylor alumna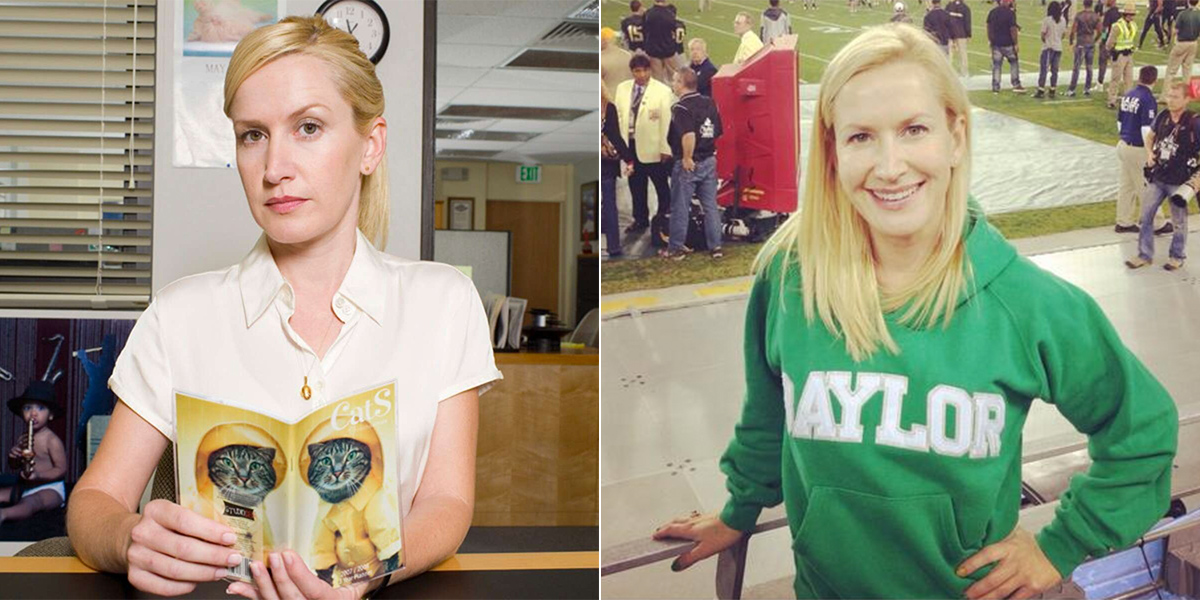 Believe it or not, it was 15 years ago this week — March 24, 2005 — that America first visited the offices of the Dunder-Mifflin Paper Company. To put that in context, current Baylor freshmen had not yet started kindergarten. Yet here in 2020, thanks to reruns and online streaming, today's college students (and millions upon millions of other people) have visited those offices again and again, to laugh (or cringe) at the antics of Michael Scott, Dwight Schrute, Jim and Pam, and of course, Angela Martin, played by cherished Baylor alumna Angela Kinsey, BA '93.
In the decade and a half since the premiere of NBC's The Office, the show and its characters have become American pop culture touchstones. But don't get the impression that Angela Martin and Angela Kinsey are the same person.
"She's nothing like that," says Baylor professor Robert Darden, BSED '76, who taught Kinsey as a student. "Angela was a perky, outgoing, spontaneous person, not a grim control freak. Her nickname was 'Junior Mint,' and her screenplay characters were always funny and irrepressible."
Back in 2007, Kinsey was the subject of a Baylor Magazine cover story in which she told the writer she still gets "real excited" to meet Baylor folks. As a student at Baylor, Kinsey was a member of Chi Omega, took theater classes and performed in All University Sing. Her memories of Baylor include "the millions of squirrels" and Carroll Science Hall, her home as an English major. "I love the beautiful wooden staircase in it. And the professors' offices are like little rooms tucked away in a big mansion."
Kinsey remains a diehard Baylor, frequently cheering on her Bears on social media no matter the sport — football, softball, or basketball. She was one of the featured guests at a Baylor fundraising event in Los Angeles last fall, and whenever she is afforded the opportunity to fling her green and gold afar, she does.
Since The Office, Kinsey has had stints on such popular shows as New Girl, Fresh Off The Boat and Haters Back Off! as well as countless short films and feature films, all while also writing and producing a short film of her own. Most recently, she's been back in the spotlight as co-host for one of the most popular podcasts in the country. Last fall, Kinsey and former co-star Jenna Fischer ("Pam") launched "Office Ladies," in which they are re-watching the entire show, one episode at a time, breaking down storylines and behind-the-scenes anecdotes. ("Office Ladies" is currently the 28th most popular podcast out of the nearly infinite number available on iTunes.)
Kinsey's home life hasn't slowed down much, either. As both a wife and mother, she tackles all the same tasks that we all do — from home renovation projects to day-to-day tasks, one of which she turned into a new enterprise with her husband. "Baking With Josh and Ange," a YouTube show that features the couple making meals and often entertaining friends and former castmates (like Rainn Wilson and, of course, Fischer). It seems there is no down time for the actress. And with rumors about an Office reunion constantly being stoked, proposed, and occasionally encouraged by Kinsey, herself, the future looks just as active.
Sic 'em, Angela!