Baylor students named finalists in Walt Disney Imagineering theme park design competition
Imagine this: An all-expense-paid trip to Disney. Networking with Imagineering executives. A behind-the-scenes looks at how Disney magic is created.
Sound like a dream? This was reality for three Baylor students, who got to experience all that and more last month. Andrea De Oliveira, senior mechanical engineering major, Erin Saylor, senior electrical and computer engineering major, and Josh Martin, senior art design major, comprised one of six teams selected as finalists in the Walt Disney Imagineering design competition, alongside teams from Muhlenberg College, Otis College of Art and Design, Penn, and Savannah College of Art and Design.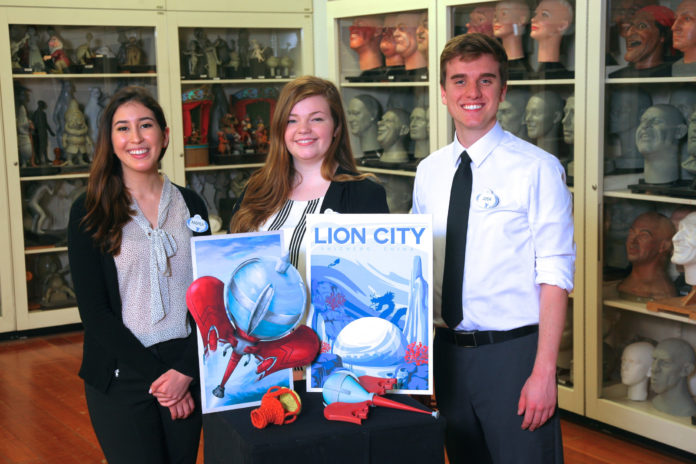 The competition seeks to find and cultivate the next generation of the Walt Disney Imagineering team, the creative force behind Walt Disney Parks. They're the ones who dream up, design and build all Disney theme parks, resorts, attractions, cruise ships, real estate developments and regional entertainment venues worldwide. Places like Disney's Animal Kingdom, Hollywood Studios and Typhoon Lagoon were born from the minds of this team.
This year's assignment: Select an actual abandoned "ghost town" from anywhere in the world and revitalize it, considering its historic value and respecting its traditions and surrounding communities while turning it into a (theoretical) theme park. So what real-life ghost town did the Baylor team choose? Shi Cheng — "Lion City" in Mandarin.
Dubbed the "Atlantis of the East," Lion City was built during the Eastern Han Dynasty (AD 25-200) and was purposefully flooded in 1959 to create Qiandao Lake. The city's buildings, roads, stairs and sculptures, intricately designed with lions, dragons, phoenixes and historical inscriptions, lie up to 40 meters below the water, preserved in near-perfect condition.
For the theme park version of the city, the team designed HydroGliders — sort of a helicopter-submarine hybrid — to give guests a 360-degree view of Qiando Lake and Lion City. After entering the city, several attractions would await guests, such as scuba diving through the ruins and the main attraction, a dragon-themed roller coaster called "Dragon Dynasty," where two tracks race to gain control of the city. (You can see part of their presentation below.)
It's incredible to see students from three different fields, who aren't even finished with their undergraduate degrees yet, join together to design something so unique.
Sic 'em, Andrea, Erin and Josh!