5 resources for learning more about Baylor history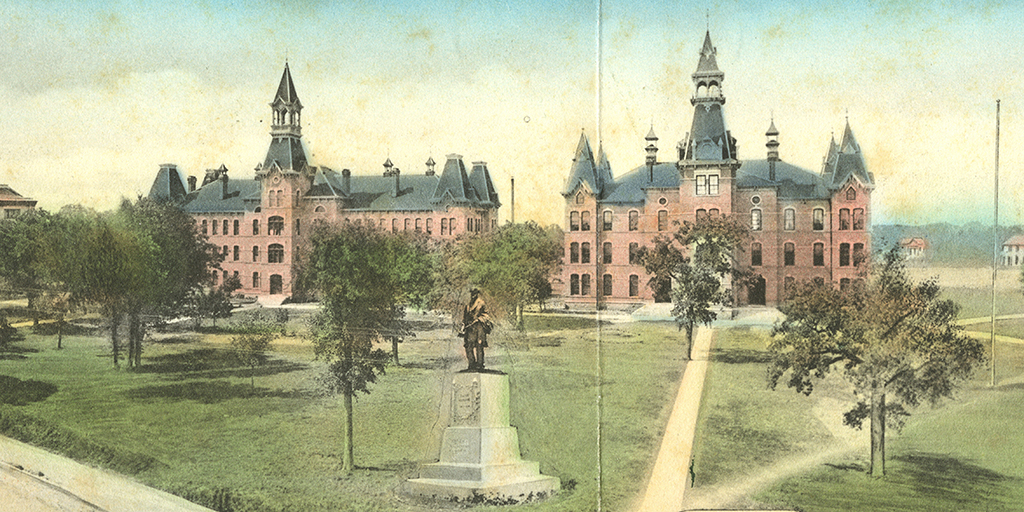 Today is Founders Day, celebrating the day Baylor was chartered by the Republic of Texas back in 1845. In other words, it's Baylor's birthday — a good time to look back at how we've arrived where we are today.
The good news is, if you're a history nut, there are plenty of resources out there for brushing up on Baylor's history. Here are five to get you started:
* The About Baylor section of Baylor's website includes biographies of each Baylor president and Judge R.E.B. Baylor, a detailed historical timeline of notable events in university history, and a cool then-and-now photo feature of some notable campus locations.
* The Texas Collection holds Baylor's official archives as part of the largest Texana collection at any private university. Even if you can't make it to campus to access their archives, The Texas Collection's blog and Flickr account regularly share a wealth of Baylor history (including the circa 1910 postcard pictured above).
* The Baylor Libraries Digital Collections have, in recent years, made huge amounts of the university's history available online. That includes virtually every issue of The Baylor Lariat from 1900-2015, nearly every Round Up yearbook since 1902, press releases, athletic archives and more.
* Looking for even more reading? Check out the 7 books that should be on every Baylor Bear's shelf, then browse through more of BaylorProud's history archives. (Some favorites: profiles of notable Bears like Pat Neff, Leon Jaworski and Ann Richards; short histories of campus landmarks such as Carroll Science, Waco Hall, the Judge Baylor statue and the Pat Neff bells; and even how the legendary Sam Houston came to be connected to Baylor.)
Happy Founders Day!
Sic 'em, Bears!
[A bonus sixth resource: The Institute of Oral History's archive of 600+ Baylor-related interviews, including such notables as Abner McCall, Vivienne Malone-Mayes, Ann Miller and Robert Packard.]