Baylor named No. 16 social media college in the nation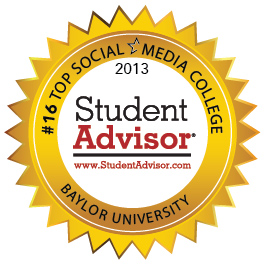 For the second time in three years, Baylor has been named one of the nation's top 30 universities on social media. This time around, Baylor checks in at No. 16 in the country according to new rankings from StudentAdvisor.com — tops in the Big 12, and tops in the state of Texas.
The rankings, based on engagement across a wide variety of platforms, reflect not only the quality of content you'll find on official university Facebook, Twitter, Instagram and Pinterest accounts, but also the interest and value you, the Baylor family, have found there, as seen in the number of comments, likes, retweets, repins and so forth given to our posts, tweets, photos and pins.
For that, we thank you. Thanks for engaging with us. Thanks for sharing your thoughts and opinions. And thanks for sharing the good news about what's going on inside the Baylor family with your friends outside — actions that help the Baylor family grow.
And if you're not yet following us, give us a look — on Facebook, Twitter (both @Baylor and @BaylorProud), Instagram and Pinterest.
Sic 'em, Bears on social media!
You might also like:
* From Facebook to Pinterest, Baylor's social media offerings attracting Bears by the thousands (Sept. 2013)
* Baylor social media efforts rank among nation's best in higher ed (March 2013)
* Baylor named one of top 30 social media colleges in the nation (April 2011)