Regents officially approve Baylor Stadium project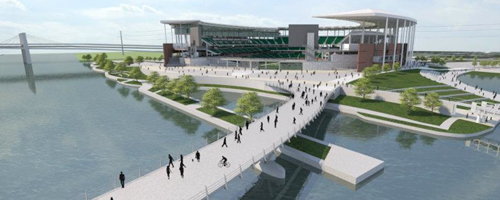 It's official: Baylor Stadium is coming to the banks of the Brazos.
Baylor Regents officially approved the project Thursday during their summer meeting, just two days after the Waco City Council first voted to award $35 million toward public improvements of the stadium site. [See the latest Baylor Stadium design renderings.]
Because the Waco City Council has a two-step voting process, the council must vote on the project once more in early August before the funds are officially approved; that vote is widely expected to be just a formality. The Regents approved the project on the condition that the public funds are approved at the council's August 7 meeting; those funds would go toward public improvements such as building roads and moving sewer and power lines.
[CITYWIDE IMPACT: Waco Tribune-Herald: $35 million grant to Baylor Stadium project is right for downtown redevelopment|| Proposed Baylor Stadium is the big catalyst many Wacoans sought || New stadium's benefits extend far beyond 'Baylor Bubble']
Construction will begin on the new on-campus football stadium at the intersection of I-35 (one of the nation's busiest highways) and the Brazos River (Texas' longest waterway) as soon as possible after the August 7 vote. General contractors Austin Commercial and Flintco have been named the construction managers; the two companies have worked together on recent stadium projects at Oklahoma, Oklahoma State and TCU, and they aim to have Baylor Stadium completed in time for the 2014 season.
[See a video walkthrough of the stadium design and learn more about the project at Baylor-Stadium.com.]
The price tag on the construction is $250 million. Around $100-$120 million of that will come from private donations, and Baylor officials say they have raised more than 80 percent of that goal. The Waco funds will cover a portion of the cost, and the rest will be raised through bonds that will be paid off through athletics revenue (not tuition dollars).
To date, private fundraising efforts have focused on large capital gifts that could lay a foundation for the project. The next stage, coming soon, will be to invite alumni and other friends of the university to participate in making the Bears' new home a reality.
Sic 'em, Baylor Stadium!
You might also like:
* Baylor Regents unveil rendering of potential on-campus football stadium (Nov. 2011)
* McLane family gift launches move toward new Baylor football stadium (March 2012)
* Significant gifts towards Baylor Stadium keep project moving ahead (May 2012)