Pair of Syrian students find relief and hope studying at Baylor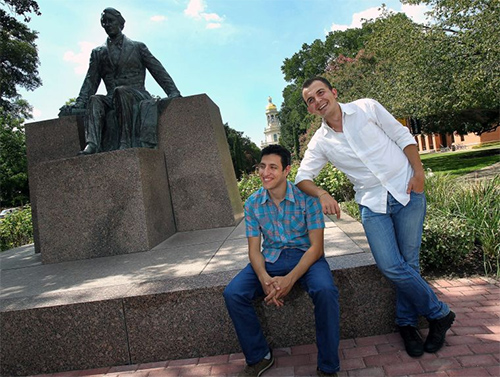 For more than two and a half years, Syria has been torn apart by civil war. The United Nations reports that more than 100,000 Syrians have died, and alleged use of chemical weapons has drawn increased attention from the international community of late.
Waco has proved to be a refuge of sorts for two Syrian college students. Amjad Dabi is a freshman studying piano pedagogy at Baylor; his friend Andrey Mukaddasi is taking classes at McLennan Community College while also studying violin at Baylor. The pair (pictured above, in a great shot by the Waco Tribune-Herald's Jerry Larson) made their way to the U.S. with help from Baylor professor Brad Bolen, who they met three years ago through a summer spent with American Voices, a nonprofit cultural engagement organization. [Read our blog post from 2010 on that trip here.]
"These are my kids," Dr. Bolen told the Tribune-Herald. "I promised their parents I would take care of them if they came over. I'm surrogate daddy."
The Baylor music professor checks in with each student daily and helps them run errands around Waco. Several local churches are providing financial and other support to the young men, and Dabi earned both a presidential scholarship and a music scholarship from Baylor. And while the students can't forget about what's going on at home, they try to devote themselves to their studies and the opportunities they've found here. Dabi is singing in Baylor's Men's Choir, while Mukaddasi is studying with the Baylor Symphony Orchestra.
Sic 'em, Amjad and Andrey!